Dagger Custom Knives

Dagger Custom Knives are truly a beautiful creation. It is always a pleasure to create one of these knives.
The blade length and overall length seem to add to the beauty of a dagger design. The blades are usually shorter than many other styles. Naturally, the overall length will be proportionally shorter as well.
Despite their obvious beauty, they have been used for personal protection since the early times of man. It's design allows it to be well hidden on a person, yet with the blade sharp on both sides can be a fantastic defensive weapon.
The flat design also allows the holder of a dagger to use it as a weapon while slashing either to the left or right. The full cross guard protects the user while the weapon is thrust or slashed - quite the tool for anyone.
The larger daggers became a fixture on military rifles as another form of protection. Just imagine having a powerful rifle and then running out of bullets in a combat situation. This type of weapon allows a combat soldier to keep defending themselves while in a close combat situation.
This particular design is more suited to a personal weapon and certainly a very popular one of choice!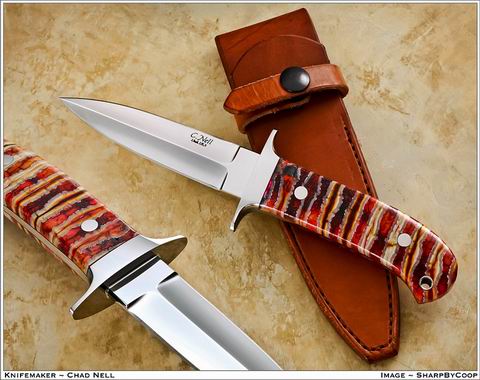 Name - Dagger with Mammoth Tooth Scales Handle
Blade Length - 4.25 inches
Overall Length - 8.5 Inches
Handle - Mammoth Tooth Scales
Spacers - Red Brick ~ Blade Steel - CPM-154cm
Guard and Fittings - 416 Stainless Steel ~ Tang - Tapered