Drop Point Hunter

A Drop Point Hunter knife is a very popular choice among custom hand made knife collectors and everyday users as well. Many of them will be called a "Loveless Style"

Recently deceased Bob Loveless is world famous for this particular style knife. Bob Loveless or RW Loveless, was an American knife maker who designed and popularized the hollow ground drop point blade and the use of full tapered tangs and screw-type handle scale fasteners within the art of knife making. He is cited by other knife makers and collectors as one of the most innovative custom knife makers in the world.
Through his study of 19th-century techniques, Loveless developed the full-tapered-tang method of knife construction. This technique was formerly used to offset the weaknesses of steel in use prior to modern metallurgy. In Loveless' knives the entire piece of steel used to make the knife ran to the end of the butt as opposed to being cut to half the length of the handle and either pinned or glued in place. Loveless tapered the butt-end of the tang down to 1/16" the same way he tapered the point on the blade, placing the balance of the knife's weight in the center. The handles were secured via screw-type fasteners, making for a stronger knife overall.
Here are Chad Nell's interpretation of the famous "Loveless Style" Drop Point Hunter. As you'll quickly notice in the photos, the knife itself will following the Loveless style. The various types of handles and materials just add an entirely new dimension to Chad's custom knife making.

Loveless Style Drop Point Hunter Knives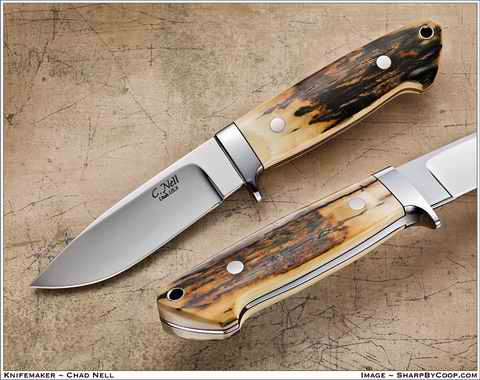 Mammoth Ivory Handle - Loveless Style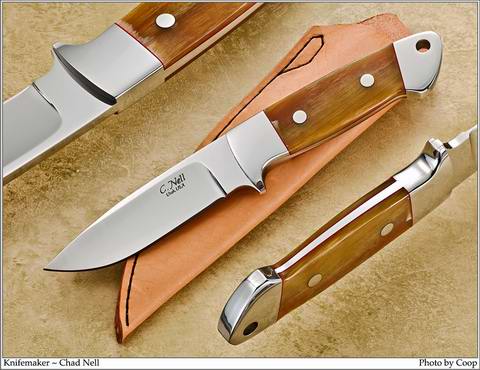 Big Horn Sheep Hunter - Loveless Style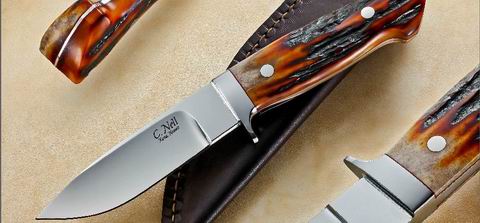 Amber Stag Handle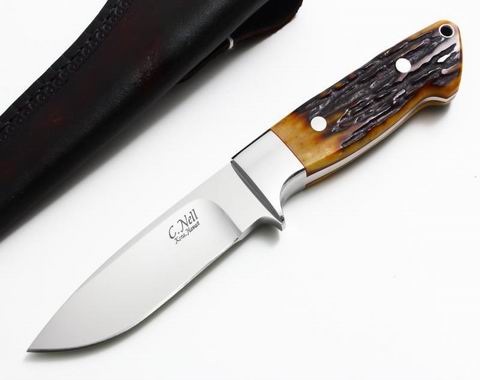 Amber Stag Handle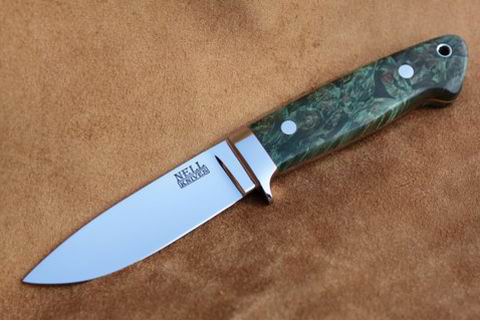 Maple Scales Handle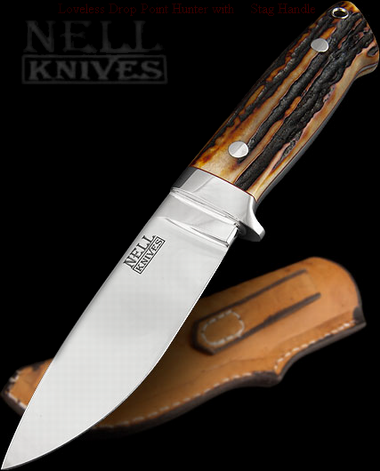 Amber Stag Handle
These Loveless Style Drop Point Hunter knives are a classic knife for so many hunters.
They are very easy to carry and provide excellent control whenever the knife needs to be utilized!
Knife Specifications - Typically

Steel Blade Length

Overall Length

Steel Thickness

Blade Steel

Guard and Fittings




4 Inches

8 1/2 Inches

3/16 Inches

CPM154cm

416 Stainless Steel