Push Dagger

The Push Dagger is virtually the same type of custom knife as a Gimlet knife, fist knife, T handle knife or a Punch Dagger.
Depending on where you were living in early America, determined if you owned one of these. Prior to small pistols and reliable handguns, this weapon became very common in places where people felt the need for personal "protection".
It became very popular in New Orleans and the Mississippi River Boat floating Gambling halls. Many fights would break out. This became an extremely easy way to quietly protect oneself. Because of it's small size (yet, very lethal capability), it could be well hidden in a boot, a sleeve, a knife sheath under a jacket, etc.
Unfortunately, it became too handy and useful - it was banned from sale, ownership, possession, etc. Too many people decided to use them!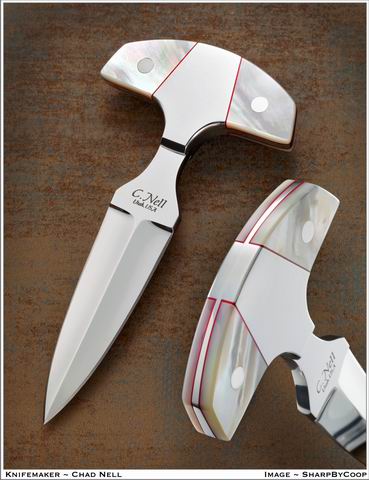 Push Dagger - Mother of Pearl Handle
This particular knife was introduced to Europeans in the mid 1880's as a weapon of protection. In Germany, it was called a Stoßdolch - meaning a fist or push knife type of configuration.
Just as in America, it started its decline in sales and popularity when small handguns and derringers became more and more reliable.
During World War I and later in WWII, this type of knife became very popular with special operations units that needed a small yet very reliable and quiet means of self defense or attack!
During WWI, the troops themselves made their own personal version of this knife. Later, a company called Robbins-Dudley of England began producing them on a large scale. Their design was either a 3.6" blade or a 5" blade that was attached to a "knuckle-type" handle. They even blackened them to make it more difficult to spot and reduce their reflectiveness.
Name - Push Dagger with Mother of Pearl Handle
Blade Length - 3.5 inches
Overall Length - 6.0 Inches
Handle - Mother of Pearl

Liners - Red
Blade Steel - CPM-154cm
Fittings and Bolster - 416 Stainless Steel